Rozwiązanie mobilne poprawiające doświadczenia klientów biznesowych marki Makro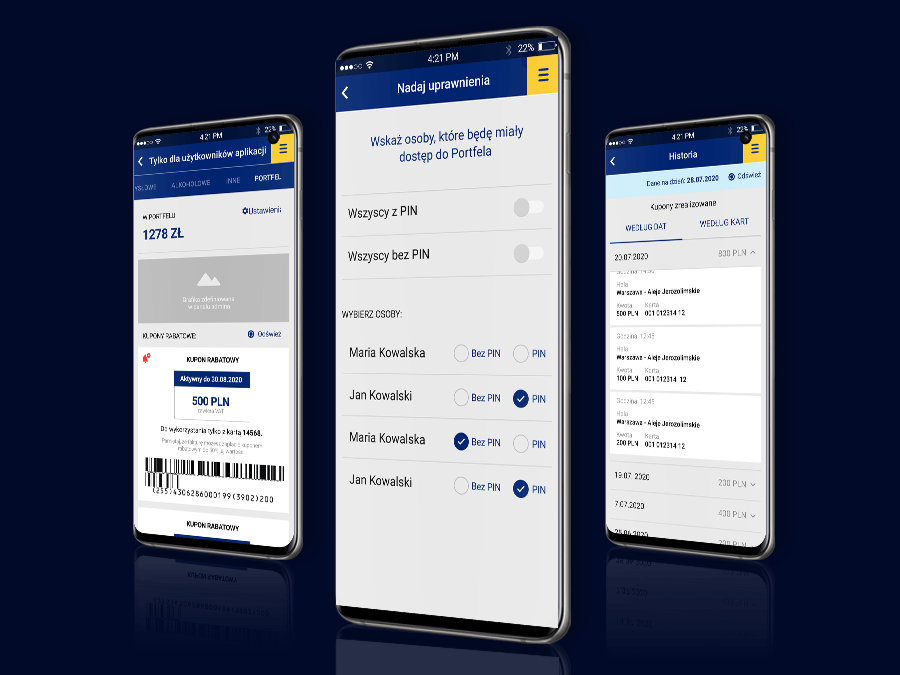 200 000 +
Pobranych aplikacji
Klient
MAKRO – międzynarodowa marka hurtowni działająca w Europie, Ameryce Południowej i Azji Wschodniej.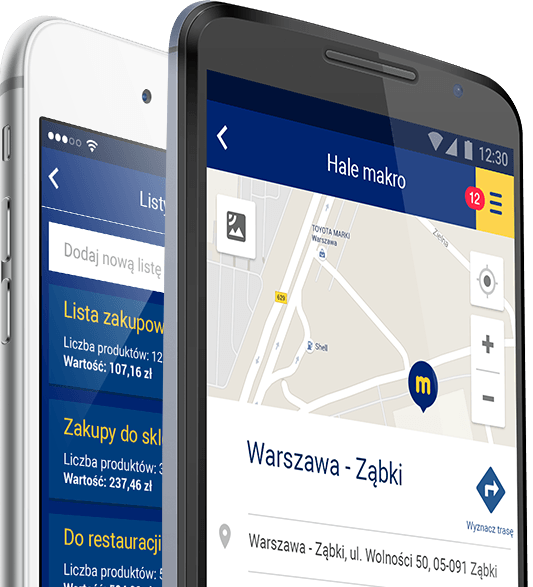 Problem
Umożliwienie klientom Makro większego zaangażowania w działalność marki. Stworzenie długoterminowej, mocno modyfikowalnej platformy dostarczającej stale rosnący wachlarz usług oparty o trendy rynkowe i potrzeby użytkowników końcowych. Głównym celem był dynamiczny wzrost bazy użytkowników.
Efekty
Klienci Makro używali tej jakościowej aplikacji przez cztery lata. Miesięczna baza użytkowników wynosiła około 100 tysięcy. Na początku aplikacja została wydana jako narzędzie do zarządzania kartą członkowską Makro. W tej chwili dostarcza ona szereg dodatkowych usług: lokalizację sklepu, wyprzedaże, promocje i oferty specjalne, czytnik cen, bony, zniżki i jeszcze więcej. W 2020 aplikacja otrzymała nagrodę najlepszej aplikacji B2B podczas Mobile Trends Awards.
Strategia
Stworzenie platformy dla klientów Makro wyróżniającej się wysoką jakością,
bardzo dobrą wydajnością, skalowalnością i zorientowaniem na użytkownika.
Dostarczenie warstwy designu, implementacja zmian i publikowanie nowych wersji aplikacji.
Zapewnienie przestrzeni serwerowej dla aplikacji mobilnych, integracja z danymi
i interfejsami danych Makro w taki sposób, aby były one zawsze aktualne i spójne
we wszystkich usługach mobilnych w wersjach na Androida i iOS.
Technologia
W projekcie postawiliśmy na technologie natywne. Dla Androida początkowo była to Java, a nowe funkcjonalności zostały stworzone w języku Kotlin. Dla iOS cała implementacja przy pomocy języka Swift. Backend zbudowano w oparciu o PHP. Zastosowanie technologii natywnych pozwala na maksymalne wykorzystanie możliwości oferowanych przez urządzenia oraz na elastyczne podejście do developmentu, zapewnia wysoką jakość, UX zorientowany na użytkownika oraz, co najważniejsze – w dłuższej perspektywie zwiększają bezpieczeństwo aplikacji.
Recenzja klienta
Anna Heimberger
Head of Branding and Customer Activation, MAKRO Polska
Współpracujemy z itCraft od kilku lat. W 2016 roku wdrożyliśmy zaawansowaną aplikacje mobilną dla klientów. Udoskonalanie aplikacji i implementacja kolejnych funkcji przebiegała bardzo sprawnie. Profesjonalizm, atmosfera współpracy, szybka reakcja na potrzebę zmian i zrozumienie potrzeb klienta to to, za co cenię itCraft najbardziej.